In what can only be described as a digital era, children are spending more and more time indoors and behind a screen. While there is no doubting the fact that this can provide hours of fun, entertainment and even education… As the saying goes: "Everything in moderation". In fact, it is extremely important that we encourage outdoor play. And here are 4 of the many benefits of doing just that. Well actually, there are tonnes of benefits outlined in this article but we have summarised them under four main sections just for you!
1.

Independence
We can assist our children in developing their independence by providing them with opportunities to play outdoors. It is important that we allow children to learn for themselves by removing (or at least reducing) direct adult supervision. We can open a whole new world for our children by allowing them to pick themselves up when they fall and even to negotiate unfamiliar play equipment.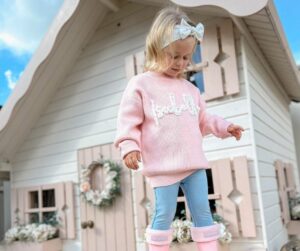 Unstructured outdoor play not only helps them to become self-reliant, but it also provides them with the independence required to calculate risks for themselves and to test their own physical abilities.
Of course, confidence will also naturally grow in the process. By allowing our children to challenge themselves in outdoor play, we are providing them with exhilarating experiences that are necessary to their growth and independence. You can check out some of our outdoor playhouses here.
2. Health and Well-Being

We are not alone when we say that health and well-being are top of the list when it comes to our wishes for our children. And, something as simple as outdoor play can actually have a major role to play in achieving this. With the extra space, it goes without saying that children can be more active outdoors; they can run, jump, throw, climb – the possibilities are endless and much less confined to what they are indoors.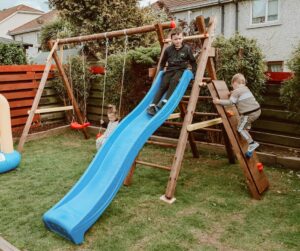 Not only does this put their motor skills to work, but it also helps with healthy bone and muscle development. By providing such opportunities for our children to burn off extra energy outdoors, we help to improve their overall fitness levels and help to prevent obesity.
Similarly, the benefits of exposing our children to sunshine (in summer or winter), are undeniable. Sunshine is a natural source of vitamin D, which contributes to stronger bones, muscle function, and positive mental health. And there's more… Not only is playing outdoors closely linked to a reduced risk of nearsightedness (also known as myopia) but exposure to natural sunlight (even on a dull day) can help regulate our body clocks and help us fall asleep easier at night (one for you grownups too!). So for happier, healthier children – get your little ones playing in the outdoors, providing them with the freedom to develop their athletic skills, abilities and immunity, increasing their activity levels, improving their mood, AND getting them to fall asleep that bit earlier in the evenings. You're welcome!
3. Sensory Skills
We mentioned earlier how outdoor play can reduce the risk of nearsightedness, but there are many other benefits of outdoor play on the senses too. Children are growing, developing, and learning all the time.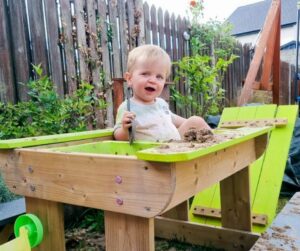 And we cannot underestimate how much our children learn through their senses! Outdoor play is particularly beneficial when it comes to our children's sense of touch (a sense that can be very much neglected by too much time spent in front of the television for instance). When our children play outdoors, they are being provided with the opportunity to experience textures, objects and even movements that may not be
experienced indoors. In addition to the sensory exploration that can take place between children and the natural world, such as with grass, water or even trees, we must also consider how their sensory skills can be developed and enhanced through the use of outdoor play equipment.
The thrill of being pushed on a swing, the adrenaline felt at the top of a slide, the textures experienced when figuring out how to approach a rope ladder or set of trapeze rings – the list goes on. Similarly, kids don't just love to get their hands dirty to irritate their parents or guardians – they genuinely love it because their senses are being exposed to something unfamiliar, something that ignites their curiosity and their need to explore. By providing these opportunities to our children, we are also facilitating them with the process of verbalising what they are experiencing through their senses. Words we take for granted as adults, such as a child saying "whee" as they go down a slide or while
being pushed on a swing, or "yucky" when they are playing in the mud. These are not just baby words. They are true expressions of sensory exploration, development, and delight. One of our best sellers, the Sand and Water Table, is just one of our many products that can facilitate these unforgettable and invaluable experiences.
4. Social Skills
If the Covid19 pandemic taught us anything about ourselves, it's the importance of human interaction. We are social beings – and children are no different! In fact, at such an important stage of their life, the development of social skills is absolutely vital for our children. And you probably guessed it. Yes, outdoor play has a huge part to play in this too! As we mentioned earlier, unstructured outdoor play with reduced adult supervision is extremely important for our children.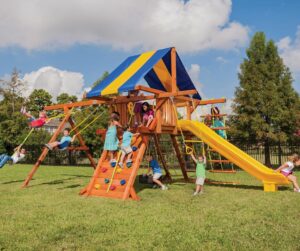 It encourages them to make friends and to join in with others, which in turn helps them to develop their social skills by interacting with other children. Yes, at times it may be necessary to intervene with a gentle reminder of the importance of sharing and taking turns, but we shouldn't underestimate the social skills they develop by themselves.
Outdoor play allows our children to use their imagination, to invent scenarios, to play games and to overcome fears. By playing with friends or siblings, children are communicating, cooperating, and learning about the importance of teamwork – skills that are extremely important to us all! It goes without saying how these vital skills can be so easily lost and forgotten by the prevalence of too much screen time. And finally, outdoor play also allows our children to connect with the natural world which can be closely related to reduced stress, increased focus, less behavioural issues, and overall happier children. Outdoor play is a win-win for everyone!
SHOP OUR RANGE OF PLAYSETS HERE