Kids Ride On Licensed Lamborghini Aventador SVJ Car
Who doesn't dream of owning a Lamborghini. Start your engines! Ride along in style with your little one on the built in hoverboard or use the remote control. Featuring sleek, hydraulic operated doors, a stereo MP3 and LED lights, they'll adore the Lamborghini Aventador electric car.
FEATURES:
Electric Pedal Controlled

2 Motors (35W*2)

EVA Wheels
Plastic Seat with PU Cover
Carry-On Hoverboard for Parents to ride with their Children
Remote Control
Led lights in wheels
Doors Open up w/ Hydraulics
Stereo Music MP3
Seat Belt ( 5 point harness)
Suspension
Led Lights
Recommended Age Group: 3 Years+
VIDEOS:
Check out the Kids Ride On Licensed Lamborghini Aventador SVJ Car video here!
DELIVERY LEAD IN TIME:
3 – 5 WORKING DAYS

Product Specifications Kids Ride On Licensed Lamborghini Aventador SVJ Car
Colour: Red
Number of Seats: 1
Battery: 12V7A
Benefits of Ride Ons For Kids
Improving Gross Motor Skills
Encouraging them to Spend More Time Outdoors
Encouraging their Imagination and Creativity
Increasing Physical Activity
Improving Spatial Awareness
Building their Self Confidence and Independence
Learning to Follow Rules
Maintaining Your Kid's Ride on Car
How to Maintain an Electric Ride-on Car for Your Kids
Here are 5 easy tips on how to maintain and clean your little one's electric car:
1: Go Through The Instruction Manual
Before you begin assembling a kids' electric car, you need to educate yourself on the kids' ride-on car you have purchased. Always start by reading the instructions manual that comes with the toy package. Doing this helps you to understand how to set your toy up and use it safely.
Once you know the do's and don'ts, explain them to your little one in simple terms. Tell your child how the car works and set some basic rules for its usage.
2. Teach Your Child How To Drive Their Ride On Car
After you've finished reading the instruction manual, show your child how to safely drive their car.
Safety is the top priority so teach them how to drive just like it was a real car. Take your time and go through everything slowly to ensure they understand what they can and can't do whilst driving an electric car.
3. Clean The Car Regularly
It's equally as important to make sure you clean the kid's car regularly. By showing your children how to clean their own car with a damp cloth after every drive, you teach them how to responsibly care for their belongings.
In addition, tell your child that if they want their car to look stunning and new, they should avoid scratching its body at any cost. Scratches can cause the body paint to peel.
4. Store The Car Appropriately
Choosing the right toy car storage for your ride-on car helps to maintain a good shape. When the ride-on toy isn't in use, cover it using a sheet or canvas to prevent dust from settling.
Make sure that you store ride-on electric toys indoors, especially during wet weather.
5. Maintain All Parts Of The Ride-On Car
You need to maintain each and every part of the car and check regularly for any potential damage and for necessary repairs.
Maintenance is an integral part of owning electric cars and keeps your little ones safe at all times.
From checking the car parts to replacing a battery connector, everything needs to be kept in top condition.
Wheels
Typically wheels are the first part of a kids' ride-on car to be damaged. Start your maintenance routine by checking the wheels, inspecting each wheel for signs of wear and tear.
Even though power wheels are designed to withstand pressure, most electric cars should be driven on smooth surfaces rather than hard surfaces. Wheel damage usually happens when a child drives on rough terrain, in grass or on wet ground.
To keep your little ones safe and comfortable, regularly check the condition of the wheels and oil them. You should also ensure that the vehicle is balanced and that the tyres are in prime condition. Don't take any risks if they aren't and replace the old wheels with new wheels for the ride on.
Routinely cleaning the rims and wheels prevents a build-up of dust, dirt and rust. To keep the wheel rims clean, dip a damp cloth in water and gently wipe until all stains disappear.
Body
One of the best ways to take care of your kids' vehicle's body paint is to regularly clean it after each and every use. We suggest using a damp cloth to carefully clean the paintwork and rims. Using a cloth helps to prevent water from being accidentally spilt into the electrics, stopping potential damage.
You should also tell your little one not to hit anything in the car if they can avoid it. If they do hit objects you could find the vehicle body covered in scratches and dents.
Another thing to avoid is adding stickers to the body. Removing these can be difficult and cause paintwork to come off.
Battery
The battery compartment of your kids' electric car is something you need to be extra careful with. Most electric ride-on toys are battery-powered. If the battery stops working, so does your toy car, and this may result in tears and tantrums.
So how do you make your batteries last longer? It's not that difficult.
All you have to do is follow a few simple guidelines and stick to the exact battery charging time. Avoid undercharging or overcharging as this can damage your car batteries and shorten their lives.
In case you have to buy a replacement ride on car battery, make sure you pick the same battery that is compatible with your 6v, 12v or 24v electric toy car.
If your car isn't going to be in use for a long time, unplug the batteries to avoid battery corrosion before stowing it in an appropriate storage area.
Steering Wheel
Do not use the Ride On's steering wheel to lift it from place to place as it is not intended for this use and will damage the steering operation.
Warranty & Returns
Refund & Returns Policy For Kids Ride On Vehicles
Our Returns and Refund Policy cover all purchases with Hennessy Outdoors.
If you are not completely satisfied with your purchase for any reason, you may return it to us for a refund or an exchange.
Please see below for more information on our return policy.
RETURNS WITHIN 14 DAYS
Customers are welcome to return any purchase to us within 14 days of purchase and will be offered a refund to the original payment method, or should they prefer, we can offer a credit note or exchange either.
All returned items must be in new, unopened and unused condition. It must be in its original packaging and pallet if it was dispatched on a pallet and returned to us in retail saleable condition.
Please note, you will be responsible for all returns and shipping charges.
In order for goods to qualify for a refund within 14 days of purchase, it must meet the following requirements:
If your item was assembled, they cannot be returned as they were built specifically for you.
The items must be returned as sold, that is in it's original (undamaged) packaging, including any documentation and with any tamper proof seals intact.
(The product must be accompanied with the receipt.)
If an item has been used or are otherwise in unsaleable condition (damaged or soiled packaging, parts missing) Hennessy Outdoors reserves the right to refuse a return under this policy.
We will refund you within 14 days of us receiving the return back. (ex initial shipping costs)
Any refunds will be sent back to the same payment method as we received.
EXCHANGES
You may send items back for an exchange within the 14 -day cooling-off period provided it is returned to us in new, unopened and unused condition. It must be in its original packaging and pallet if it was dispatched on a pallet and returned to us in retail saleable condition. This only applies to items purchased in their boxes and not assembled Items – Swing Sets, Kids Electric Cars.
Please note, you will be responsible for all returns and shipping charges.
All Items Returned Please Note
Up to 20% restocking fee will be charged for returns where the return comes back and is in new saleable condition
No refund will be given for any item that has been used
All Returns Must Include All Original Accessories and Original Packaging
Once your return is received and inspected, we will send you an email to notify you that we have received your return and will also notify you of the approval or rejection of your refund.
FAULTY ITEMS
If your item develops a fault:-
All goods sold offer a 6 month's Parts Replacement warranty if the item has a manufacturing default.
NOTE:
The warranty covers the replacement of any parts with a manufacturing fault within the warranty period which will be sent by post for you to fit.
Due to the nature of the products we sell and the environment they operated in, breakages can occur in normal use therefore general wear and tear or any damage caused by misuse is not covered, this warranty covers you solely against manufacturing faults.
What to do
Or What's app the issue and send to 086 2688392.
Once we have assessed the issue, we will ask you send us the faulty part back.
(Customer is responsible for the costs incurred to post parts back.)
We will inspect the part for a manufacturing fault within 2-3 working days and once agreed that it is manufacturer's fault, we will send a replacement part out.
You will be expected to remove and fit the parts yourself. – (We will provide guidance / video of how to fit the part. )
If a charger develops a fault whilst your item is within the 6 -month warranty period, please return the faulty charger back to us, before we replace it with a new one.
            (We will test the original charger to ensure no incorrect use has occurred before any replacement is issued.)
If a motor develops a fault, we will ask that the faulty motor is returned to us before a new one is dispatched.  Please note that any misuse of the item such as off road use, through water or large puddles, mud, sand or excessive usage will void warranty on motors.
NOTE: We only cover one replacement item per fault under any warranty.
NB
These are kids toys and should be used in such a manner.
They should not be used as off road vehicles, any signs of misuse (water, off road use or mud) will automatically void any warranty supplied by Hennessy Outdoors
Shipping costs are not refundable under any circumstances.
If the product or parts are not covered by the warranty or the warranty has expired, at your request we will provide a quote for repair or replacement including the cost of returning the product or parts back to you.
DAMAGED ON ARRIVAL
Any Damaged Goods Must be Notified to us by email within 2 working days
Email: info@hennessytimbergroup.com or text photos to 086 2688392.
After 48 hours we will not accept any claims for damage in transit and it will be accepted that the goods arrived to you in good condition. Please note: You will be responsible for all returns and shipping costs
GENERAL EXCLUSIONS TO RETURN | WARRANTY
General Wear and tear
If the item is damaged due to alterations or modifications which have been made or repairs performed by an unauthorised engineer.
Any repairs performed without consulting one of our technicians
Failure to follow our written instructions for the product or those of the manufacturer
Modification to the product
Damage or defect due to wilful neglect or negligence by anyone other than us
Loss of quality, degradation of performance or actual damage that results from the use of spare parts or other replaceable items (such as consumables) that are neither made nor recommended by the manufacturer
Connection of other fittings, accessories, equipment or software to the product which was not approved by us
External causes out of our control which may include accidents or fires.
Faults caused by shock or fall, water damage, sand, dust, dirt, dampness or corrosion, leaky batteries, repair or cleaning by unauthorised personnel
Any malfunctions or specific requirements of any other item of hardware or software which you added to the product
Incorrect assembly
Damage caused by impact, fire, theft, attempted theft, accidental or malicious damage, vandalism, acts of war or terrorism, corrosion, water contamination or ingress, frost, flooding or other adverse weather condition
Improper usage, storage or handling of the product
The following parts are not covered by any warranty on Ride Ons:
Chains & Belts
Batteries (Batteries are considered as a consumable item and also require regular maintenance in order to ensure good battery health)
Fairings/ decals/Stickers/bodywork (48 hours after delivery- Photos required) these are classed as cosmetic parts and are not considered as essential for the operation of the Ride-on, quad or bike.
Pull Starts or Inner Cogs
Clutches, Bearings or springs
Welding and frames
Steering wheels (The steering wheel is often used to lift the Ride-on, an action they are not designed for and we strongly advise against this. We class damaged or broken steering wheels as normal wear and tear and as such they are not covered by the Warranty)
Seats & Covers
Brake(s) or Callipers;
Tyres, Wheels, valves and Inner Tubes;
Spark Plugs;
Any other parts of a similar wear and tear nature to those listed above and any part that has been damaged as a result of accidental damage or lack of maintenance.
It is important to stress that our warranty terms do not cover misuse, incorrect assembly, deliberate damage or any other issue which is not classified as a manufacturing defect.
Example 1: Ride-Ons which have been stored in cold and damp environments lead to catastrophic electrical damage therefore the standard warranty terms do not apply.
Example 2: Ride-Ons which have been used over the specified weight limit cause irreversible damage to the motors as well as the speed controller/motherboards therefore the standard warranty terms do not apply.
Example 3: Ride-Ons which have been used in water, off-road, mud, sand or excessive usage causes damage to the electrical components and puts extra pressure on motors causing them to burn out more quickly and therefore standard warranty terms do not apply.
Related products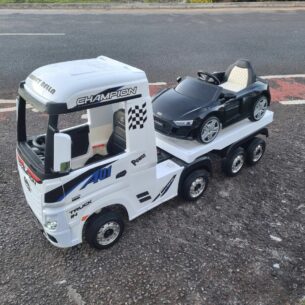 Out of stock