The Manor Kids Playhouse Product Dimensions: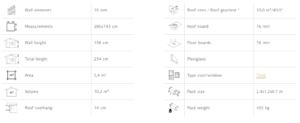 Playhouse complies with European Standards EN71-1, EN 71-8 and with Directive 2009/48/EC of the European Parliament and of the Council
Wood: Nordic Spruce
9.5 Ft wide X 6.5 Ft Length
Overall Height: 234cm (7 Ft 8 Inches)
Wall Height: 138cm (4 Ft 6 Inches)
Base Width: 286cm (9 Ft 5 Inches)
Base Depth: 193cm (6 Ft 4 Inches)
Roof Overhang: 14cm
Wall Thickness: 16mm
Roof/Floor Thickness: 16mm
PACK SIZE: 2.4 X 1.2 X 0.7m
PACK WEIGHT: 455 kg
Recommended Base for The Manor Playhouse: Place on 6/8 concrete blocks on level ground or a concrete base.
Please note: this product comes untreated and should be painted/treated within two weeks of receiving it to avoid rotting or warping of the wood. This product comes as standard without a roof covering. If you require a felt or shingle roof covering, please select it from the drop down when ordering.