As the weather starts to warm up, there's nothing quite like spending time outside in the comfort of your own garden. Whether you're relaxing with a good book, hosting a barbeque, or simply enjoying the sunshine, a well-furnished garden is the perfect place to unwind and make the most of the great outdoors. That's why at HennessyOutdoors.ie, we offer a wide range of garden furniture to help you create your very own outdoor oasis.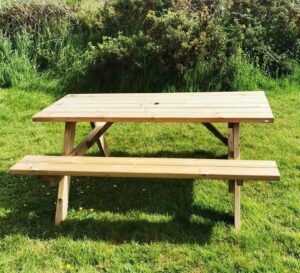 When it comes to choosing garden furniture, there are a few key things to consider. Firstly, you'll need to think about what you plan to use your garden for. If you're looking to entertain guests, you may want to opt for a spacious seating area capable of fitting the whole family or group of friends. If you're after something more relaxed, a smaller 2 seater or 3 seater garden bench may be the way to go.
Next, consider the size of your garden. If you have a large outdoor space, you can afford to be more adventurous with your furniture choices, opting for a number of wooden picnic table and benches. However, if you're working with a smaller garden in the city for example, it's important to choose furniture that is both functional and compact.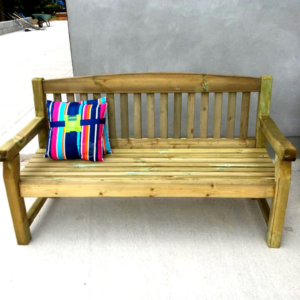 The material of your garden furniture is another key consideration. Traditional wooden garden furniture is a popular choice and looks great in any outdoor space. It's also durable, sturdy and long-lasting, but it does require regular maintenance to keep it looking its best. Metal garden furniture is another option, and is particularly suited to those who are looking for a low-maintenance solution. Meanwhile, plastic garden furniture is a budget-friendly option that's suits those who are looking for a quick and easy way to refresh their garden. On the downside, it can break easily and get shoddy quickly.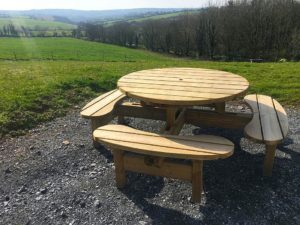 Once you've chosen the perfect garden furniture for your outdoor space, it's important to think about the little details that will help bring your garden to life. Soft furnishings such as cushions, blankets and throws can help to create a comfortable and inviting atmosphere, while lanterns, fairy lights and candles can help to create a cozy and romantic ambiance.
At HennessyOutdoors.ie, we understand that everyone's garden is unique, which is why we offer a wide range of garden furniture to suit all tastes and budgets. Whether you're looking for a wooden picnic table, round picnic table or garden bench you're sure to find what you're looking for with us. We even offer unique wooden outdoor dining pods for homes or businesses. Our range of wooden garden furniture is expertly crafted and designed to provide the ultimate in style and comfort, so why not take a look at what we have to offer today? Start creating your outdoor oasis!